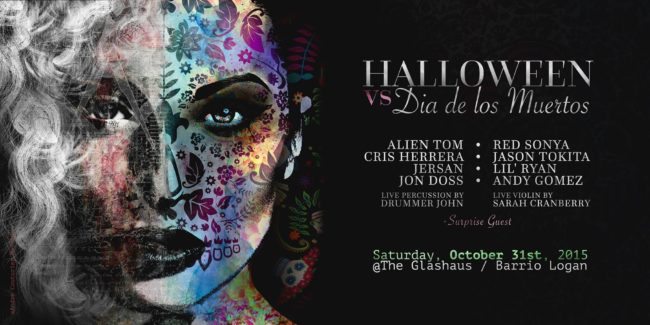 Halloween Vs. Dia de los Muertos
Saturday, October 31st, 2015
@ The Glashaus / Barrio Logan

There is a time to be good, and a time to be bad, but this time all good times will be had! Halloween night, join us if you dare for the most Spooktacular event of the year! You ghosts and goblins are invited to come early from 8-10 PM and enjoy Trick or Treating at The Glashaus! Then ask your parents to take you home, because the Freaks come out at night! At 10pm, the countdown to Dia De Los Muertos begins….The dead will arrive at 1am, and they will be judging your best costume! Don't be late!
8:00 p.m. – 10:00 p.m.
TRICK OR TREAT!
10:00 p.m – Late Night
$20* / 21+ w/ Valid I.D.
*includes open beer and wine bar
Guest DJs:
DJ Red Sonya (Native Alien, Lady Lush)
[+] www.djredsonya.com
[+] www.soundcloud.com/djredsonya
Alien Tom (Native Alien)
[+] www.alientom.com
[+] www.soundcloud.com/alientom
TOKITA (Kolour Recordings)
[+] www.jasontokita.com
[+] www.soundcloud.com/jasontokita
Cris Herrera (SoulOnBeat.com, Art OfSound)
[+] www.soundcloud.com/soulonbeat-com
Ryan Bauer AKA Lil' Ryan (Dance Klassique)
[+] www.mixcloud.com/ryan-bauer
Jon Doss – Bramble
[+] www.soundcloud.com/jon-doss
Jersan (Fluently Fresh)
[+] www.fluentlyfresh.com
Andy Gomez (Dance Klassique, We Are One)
[+] www.weareone.com
Percussion by:
Drummer John (Bounce Sundays)
[+] www.facebook.com/bouncesundaysd
Live Violin by:
Sarah Cranberry (Lady Lush, SHAFT Records, Simpler Times)
[+] www.sarahcranberryviolin.com
+ Surprise Guest T.B.A.
================
Pure Groove Sound by:
Native Alien
[+] www.nativealien.com
================
Warehouse Space Provided by:
Momenta Design Group
[+] www.momentadesign.com
================
In honor of Dia de Los Muertos we will be decorating a community altar with orange Mexican marigolds, candles, and ofrendas (offerings). Bring photos and memorabilia of your lost loved ones if you would like to participate!
================
This is a private event brought to you by Native Alien, Momenta Design Group, The Wrights & The Bergerons.