Contact! July 6th-8th 2012
Native Alien is hosting the 2nd Annual Summertime-Pool-Party-Camping-Fiesta at the Rancho Agua Caliente Resort. Contact! I am stoked to be on the lineup!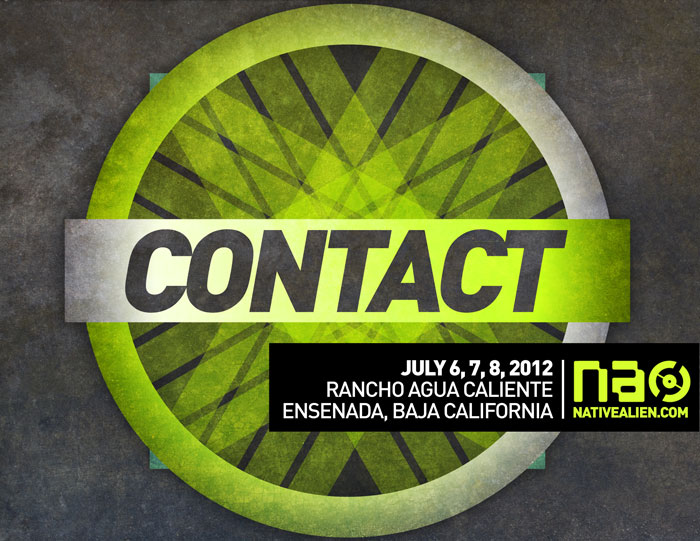 Enjoy camping amongst the oak trees with your friends on a private 800 acre eco-resort. Relax in the 108 degree hot springs tub and roman baths and splash in the cool Olympic size swimming pool. Listen to music played by your favorite DJs, and dance poolside under the sun and stars. Join us for an adventure!
Native Alien Presents Contact!
The event starts at 4pm on Friday, July 6th, and ends Sunday, July 8th at 8pm. Native Aliens (You) are welcome to set up camp as early as Thursday, and are invited to stay Sunday night if needed. There is plenty to see and do, so please join us for the weekend!
Rancho Agua Caliente is about 2-3 hours South of the border. View our detailed driving directions, and use Google Maps. Be sure to read "Code Of Conduct" and "What to Bring" before you arrive! Don't forget your passport, and your Mexican Auto Insurance. Please carpool, and caravanning is encouraged!
Buy your ticket today by filling out the form below! Payments will be processed through paypal, and you will receive a confirmation email. Thank you for vacationing with Native Alien!
Price: $120.00
Enter Native Alien Promotional/Discount Code: ALIENTOM for $20 off your ticket.