Resident DJ, Host and Co-creator of TECHNIQUE, PETEY FUNKIN CORN takes over the controls at the club playing house and tech for your movin' and groovin' pleasure! Joining him this night will be ALIEN TOM and DJ Red Sonya.
Get ready for another a**-shakin' and heart-breakin' good time at $2 Tuesdays!!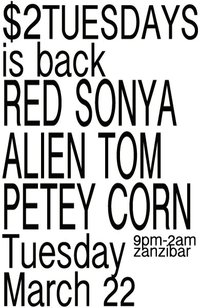 set times:
PETEY FUNKIN CORN
9pm to 10:30pm
DJ Red Sonya
10:30pm to midnight
ALIEN TOM
midnight to 2am
location:
Zanzibar
1301 5th Street
Santa Monica, CA
9PM – 2AM
FULL BAR
cover:
$2.00
No Guest List
You MUST be at least 21 and have a VALID ID
Zanzibar has a strict door policy!