Alien Tom is a Techno Artist from San Diego, California. Currently Tom is on the Red Alien Invasion Tour with DJ Red Sonya. Additionally, he produces events with Native Alien including Native Alien Contact, T Is 4 Techno, House & Techno and Lady Lush. Tom is releasing songs and remixes on Stripped Digital and is always in the studio working on new material. Check out his Techno DJ mixes, Techno music productions and of course Techno on Beatport.
Alien Tom DJ
Alien Tom has been delivering fresh music and funky beats from another planet since aliens were indians. Tom is a skilled Techno DJ, music engineer, arranger and producer. He has worked with Nine Inch Nails, Meatbeat Manifesto, and Photek.
Also, as a DJ, he has performed at numerous electronic music festivals including Narnia, EDC,  and Nocturnal Wonderland. He shakes the dance floor at clubs such as Eurobar, Spin Nightclub and Blonde. His DJ sets, interviews and compilations have been broadcast on Southern California radio stations KROQ, KCRW, 91X and KSDS. Tom has also has also made music for the commercial world. Past and current clients include Gunnar Optiks, M.A.C., Ocean Pacific, Sundance, Stanton DJ, Dragon Optical, Anarchy Eyewear, 20th Century Fox and Warner Brothers. Alien Tom's appears as DJ on the song from Nine Inch Nails, "All The Love In The World."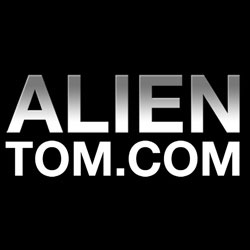 Red Alien Invasion
In 2006 Tom was introduced to DJ Red Sonya and there was a 'shift' in the universe. The two started playing 4 turntables together and then continued to DJ separately and as a duo. In 2007 Lady Lush started as a collaboration with André Couturier Maitret. Art and style mix along with Sonya and friends DJ sets. Photography and production was handled by Tom. This sparked a partnership beyond the one club night and continues to this day.
In 2011 Tom celebrated a fundamental earth bound milestone at a hot springs and Native Alien Contact was born. An annual resort takeover, Contact is your vacation from tent camping festivals.
Additionally, at the end of 2017 T is 4 Techno began at Blonde bar. This night started with a bang and presents local and guest Techno DJs. Alien Tom maintains the resident slot. He helps curate the night with the help of DJ Red Sonya and the rest of the San Diego and international Techno DJ community. Don't miss his Techno sets at Blonde on Tuesdays.